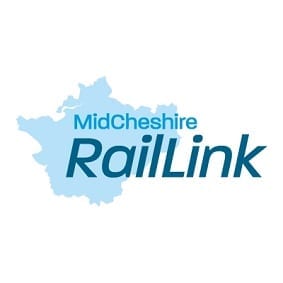 The Northwich-Gadbrook Park-Middlewich-Sandbach-Crewe Line
The Mid Cheshire Rail Link campaign (a sub-committee of MCRUA) is campaigning for the re-opening to passengers of the freight railway line between Northwich and Sandbach stations, with new stations at Middlewich and Gadbrook Park (at Rudheath, near Northwich) and through trains from Mid Cheshire to Crewe. This is making progress, slowly. The idea caught the attention of previous Secretary of State for Transport, Chris Grayling, who spoke in its favour and asked Cheshire and Warrington Local Enterprise Partnership ("the LEP") to commission feasibility study.
There is a defined process for rail re-openings, which has multiple stages and is inevitably lengthy. The LEP commissioned WSP consultants to do a feasibility study, which was completed two years ago and recommended progress to the next stage… which the DfT accepted, and so the LEP commissioned a Strategic Outline Business Case, which was completed in March 2020 and sent to the DfT for the next decision. After many months the DfT decided to ask the LEP to update the SOBC and re-submit it. In parallel with this the DfT had announced a fund, 'Restoring Your Railway', which exists to fund studies into re-opening closed railways. This is often misunderstood as a 'reversing the Beeching cuts' fund, but it isn't; it's only to part-fund studies and as mentioned this is a multi-stage process. The LEP did not apply for money from the first two tranches of 'Restoring Your Railway' because the Middlewich re-opening was already more advanced than the studies that the fund was meant to support. However, a third tranche of funds has been announced and DfT suggested that the LEP apply for funds from it to cover the re-work of the Strategic Outline Business Case. This has been done… but the DfT has delayed announcing any decisions on spending this tranche of funds! A decision on funding is not now expected until July, by which time it will be 16 months since the last report was submitted to them. Truly, you need epic persistence and the patience of a saint to win campaigns such as this; our friends at North Cheshire Rail Users Group campaigned for 40 years to secure the re-opening of the Halton Curve to passenger trains!
** The information on this page was last updated on 19 May 2021.