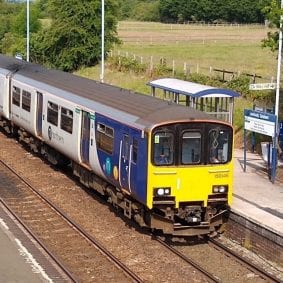 The Mid Cheshire Rail Users Association (MCRUA) was formed in 1987 to support users of the Manchester-Stockport-Altrincham-Knutsford-Northwich-Chester Railway Line; usually known as The Mid Cheshire Line.
The Association has now grown to more than 300 members. As well as individual membership, it is pleased to have the support of a number of corporate organisations.
MCRUA produces a newsletter, the Mid Cheshire Rail Report, usually three times a year to keep its members informed of MCRUA activities, events on the Mid Cheshire lines and other railway related information. In addition MCRUA maintains this website which gives it a public face and provides up-to-the-minute news.
MCRUA hosts discussion about our local railway on its Facebook Page. Do join in.
Train services on the Mid Cheshire Line are operated by Northern. MCRUA holds regular meetings with local Northern management where Mid Cheshire Line users' travel problems and ways to improve services are discussed.
Whilst the primary reason for MCRUA's existence was the Mid Cheshire Line, it now also represents users on the Crewe to Liverpool line.
MCRUA is also strongly supportive of the efforts of the Middlewich Rail Link Campaign to reopen a station at Middlewich and a new station at Gadbrook Park and provide a passenger train service through to Manchester and Crewe.
Click here for further details on joining MCRUA.
Click here to read and download MCRUA's Constitution