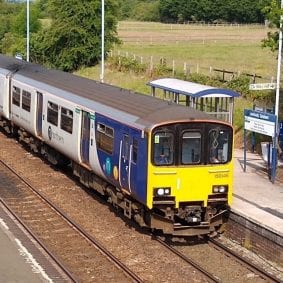 This is a campaign that we all thought we had won in 2015, when this level of service was specified as part of the Minimum Train Service Requirement for the Northern franchise which includes the Mid Cheshire Line. Northern was required to – and by contracting, agreed to – operate hourly trains on Sundays and two trains an hour on weekdays starting in December 2017.
The Sunday service has not started because, unlikely as it may sound, Sunday working was not part of the drivers' working week. Northern was relying on volunteers to operate the service, and there were not enough. Amazing as it seems to those of us outside the railway industry, the train operator had contracted to deliver a service despite knowing that they had not got the resource to do it. Northern has negotiated new contracts with train crew since then but these are not yet fully in force. We expect the hourly Sunday trains to start when these contracts are in force from the December 2021 timetable change.
The second hourly train on weekdays was required to run limited stop between Manchester and Northwich. Northern committed in their contract to extend it to Greenbank, and we were pushing them to extend it to Chester. It would not be fair to say that Northern didn't try. The service start was delayed by Network Rail's late completion of the Bolton line electrification, which tied up diesel trains and prevented improvements to diesel lines like ours. But Northern did eventually plan a two trains per hour service between Manchester and Greenbank. For MCRUA, John Oates and Simon Barber met Northern's senior timetable planner to review their proposed timetable. We saw it and offered comments on the calling pattern, the times of the first and last trains, and peak hour departure times. All seemed set fair for service start in 2018, but then Network Rail refused permission saying that the rail network was too congested and they could not offer Northern the train paths for the service. It was odd that Network Rail had not said so previously and instead had led Northern to plan the service in detail. Northern could do nothing about this but suggested instead a limited stop service between Altrincham and Chester which would provide two trains an hour at the principal Mid Cheshire stations, with faster journeys to Altrincham and Chester. Although very disappointing that these trains would not provide a faster service to Manchester, this would still be a worthwhile improvement. However, Network Rail intervened again and refused Northern permission to operate this service, saying that there were farm occupation crossings on the line that due to recently introduced revised safety standards needed upgrades before more passenger trains could run. Again, Network Rail had not mentioned this before and nor had they taken steps pro-actively to upgrade the crossings, despite knowing since 2015 that the extra trains were a franchise commitment. Network Rail now has a plan to upgrade the crossings but say it has been delayed by Covid. We continue to press Network Rail via the CRP about this and are hopeful that the Altrincham-Chester extra service will be able to start. However, if the changes suggested under Option C of the Manchester Rail Recovery Task Force are chosen, these extra services would instead be provided by Transport for Wales through their North Wales to Manchester service running via the Mid Cheshire Line calling at Northwich, Knutsford, Altrincham and Stockport rather than travelling via Warrington. If Option C is chosen, these services are anticipated to start from the May 2022 timetable change.
We should add that since the 2015 franchise contract was placed, the Department for Transport (DfT) has taken back control of Northern and the franchise contract is therefore no longer in force. The train service that operates in future may not be the same as expected. MCRUA continues to watch this very closely and to maintain contact with all those who may influence the future service pattern – including MPs, borough councils and transport authorities.
** The information on this page was last updated on 19 May 2021.