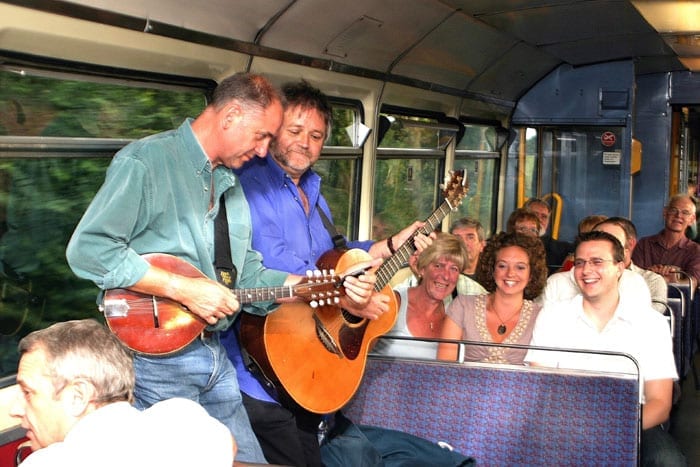 What is a Music Train?
We get on the train, go to the pub and back, and hear live music both on the train and at the pub. We use a carriage on the normal train service – we don't have exclusive use of the carriage and there will be 'normal' passengers in the carriage as well. You need to buy a train ticket in the normal way. There is no charge for the music but there will be a collection for the musicians.
The Music Train programme started in 2007 and ran every year since until 2020 was cancelled by COVID. It has built up to an average of seventeen Music Trains in the seven summer months of the year, with three different packages of journey and pub.
We have three different packages
'Open to All' Music Trains from Chester to the Golden Pheasant at Plumley or, once a season, to the Angel in Knutsford. There is no pre-booking – just come along to join the Music Train either in Chester or at one of the stations along the Line.
'Open to All' pre-booked Music Trains from Altrincham to Alexanders Café-Bar in Chester.  Everyone is welcome but you have to book a package in advance with Alexander's.  This covers the taxis from and to the station and a meal at Alexander's.
'Group' pre-booked Music Trains' either from Altrincham to Chester as above or from Chester to the Railway Inn at Mobberley in the daytime or to the Golden Pheasant in the evening.   Music Trains are arranged for any group which can be 'reasonably confident' of bringing 30 people
Music
Mid Cheshire Line events are 'Music Trains' because we get a wide range of acoustic – folk, jazz, swing, bluegrass, blues and sea shanties. We even had a very popular string quarter for some years. The musicians on the train each way and for a couple of sessions at the venue. The largest band we have has seven members. Four or five is more normal.
Covid
All these comments relate to the period before COVID. At the moment Music Trains cannot be arranged for all sorts of reasons connected with the COVID restrictions affecting the trains, singing and the venues. Hopefully, these is will eventually be relaxed enough for Music Trains to become possible. If that happens then all practices will have to be reviewed and changed to cater for whatever the new normal may be.